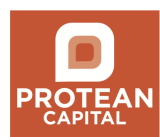 Protean Capital is a specialist investment manager with considerable expertise of quantitative investment strategies, risk management, structured products and derivative trading. With backgrounds including global head of derivative trading, head of European structuring, head of structured products and fixed income trading the individuals at Protean have been responsible for a ground-breaking closed-ended structured product fund and the UK's first structured product UCITS fund which was recognised with a PAM award for innovation.
The VT Protean Capital PROCSI CoRE Fund benefits from this deep expertise and achieves its investment objective via a risk managed exposure to a globally diversified multi asset portfolio.
For more information on Protean Capital, please visit
www.protean-capital.com or contact us at info@protean-capital.com
Share Classes:

The latest net asset value per share is as follows:
Class A
112p
Net Asset Value as at 12:00 on 6th December 2023.
The fund's valuation point is 12.00 every business day.
Assessment of value statements are published annually for this fund - These reports are useful to give an overview of how the Fund has performed in comparison to industry comparators.
Past performance is not necessarily an indication of future results
Questions and Queries
For frequently asked questions or further information about your holdings or this fund please:
Email the Fund Team protean@valu-trac.com or call us on: 01343 880 344 and quote the fund name.