VT Munro Smart-Beta UK Fund
Until now tracker and index funds have only been constructed with reference to the market capitalisation of each constituent company. The market capitalisation is calculated by multiplying the number of shares a company has by its share price. So, if the share price goes up 10% so does the market value of the company. Sometimes, as in the dot com bubble, share prices rise simply because sectors and companies become popular. That can make them expensive and vulnerable to sharp collapses when sentiment changes. In few other walks of life do we assess things purely on price. We always seek to find some measure of quantity.

Our preference is to use a fundamental measure to assess companies.

The VT Munro Smart-Beta UK Fund uses consensus forecast gross cash dividends for each constituent company, in relation to the total for the index, to determine the size of each holding. Using a fundamental measure, rather than price (market capitalisation) as with most index funds, gives it a value bias. This model bridges the gap between active and passive funds and could be described as Smart Beta. The model is rebalanced every month to incorporate changes to dividend forecasts and the fund is reconciled to the model every day to exploit volatility.
Every year since 1956 Barclays has published a study of the long-term returns from investing in equities and in gilts using data going back to 1899. That means it includes data from times of war, recessions, booms inflation and deflation. The graph below illustrates the theoretical returns that could have been generated had anyone invested £100 in the UK stock market in 1945.

The lower line shows the return, before costs, of the capital value alone and ignoring any dividends paid. It shows that £100 would have grown to £10,030 by the end of 2016. The other line illustrates what might have happened, again before costs, if the dividends generated by the portfolio over that period of time had been reinvested. That initial sum of £100 would have grown to £211,392, again in today's money and not allowing for inflation, by the end of 2016.

Although that figure is about 95% higher than the capital only sum it can be shown that the reason it is so much higher is because about half the growth in value has come from the dividends, growth in dividends and the reinvestment of those dividends.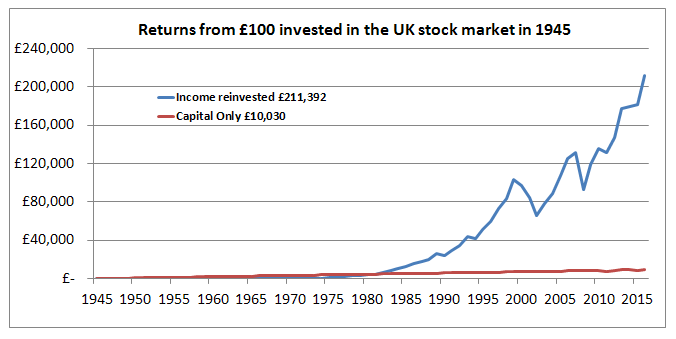 Source: Barclays Equity Gilt Study
Past performance is not necessarily an indication of future results

The data from Barclays shows that dividends are an important factor in the overall return from investing in equities. These two graphs help put the dividends from the fund into context over time and relative to the market overall. These data are for the X Income shares. Dividends for the Accumulation shares are reinvested by the manager.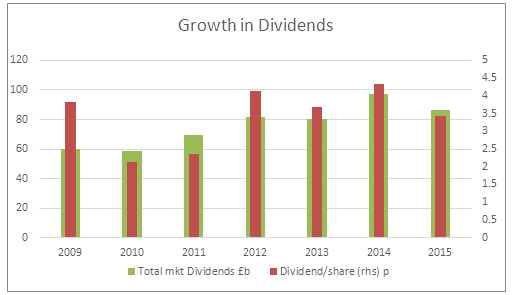 Source: Total Market Dividends from Capita Asset Services, Fund dividends from Valu-Trac Investment Management Limited
Past performance is not necessarily an indication of future results

This graph illustrates the dividend payments, and the growth of those distributions since the fund was launched in 2007. It also shows the total payments made by all companies on the London Stock Exchange as determined by Capita.

Over time the frequency of distributions from the fund has increased from half-yearly to quarterly and now monthly as the next chart demonstrates.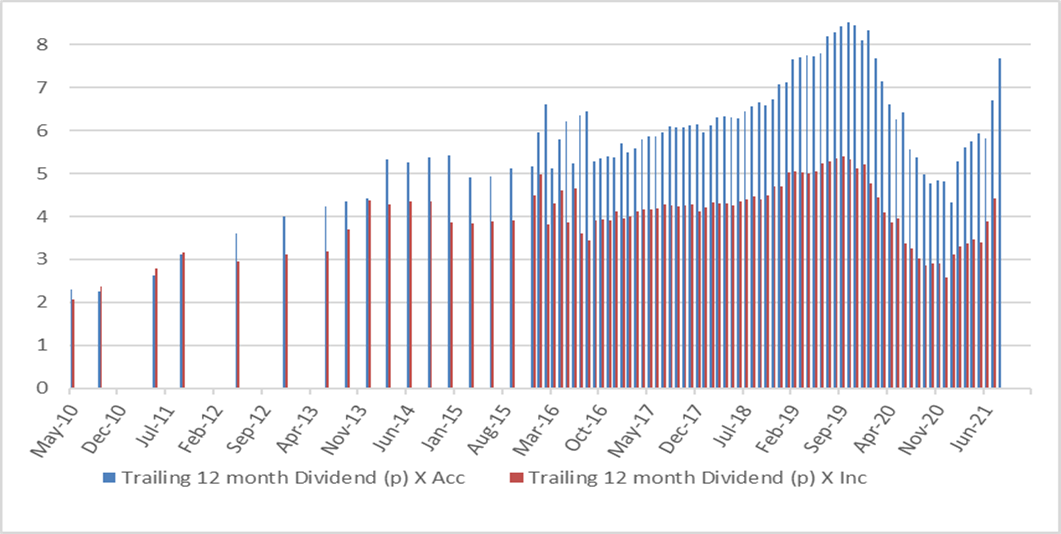 Source: Valu-Trac Investment Management Limited
Past performance is not necessarily an indication of future results

The higher distribution in 2014 was due to the special dividend from Vodafone.
A lot financial commentary revolves around the current level of any security, or collection of securities such as a stock market index. However, this detracts attention away from the single most important feature of the investment world which is the crucial role of reinvested income.
Annual Report 2021
Annual Report 2020
Annual Report 2019
Annual Report 2018
Annual Report 2017

Application Form VT Munro Smart-Beta UK Fund - Individuals
Application Form VT Munro Smart-Beta UK Fund - Institutional
Key Investor Information - Class A
Key Investor Information - Class B
Key Investor Information - Class X

WARNING: The information on this page is presented by Valu-Trac using all reasonable skill, care and diligence and has been obtained from or is based on third party sources believed to be reliable but is not guaranteed as to its accuracy, completeness or timeliness, nor is it a complete statement or summary of any securities, markets or developments referred to. The information on this page should not be regarded by recipients as a substitute for the exercise of their own judgement.
The information on this page has no regard to the specific investment objectives, financial situation or particular needs of any specific recipient and is published solely for informational purposes and is not to be construed as a solicitation or an offer to buy or sell any securities or related financial instruments. In the absence of detailed information about you, your circumstances or your investment portfolio, the information does not in any way constitute investment advice. If you have any doubt about any of the information presented, please consult your stockbroker, accountant, bank manager or other independent financial advisor.
Value of investments can fall as well as rise and you may not get back the amount you have invested. Income from an investment may fluctuate in money terms. If the investment involves exposure to a currency other than that in which acquisitions of the investments are invited, changes in the rates of exchange may cause the value of the investment to go up or down. Past performance is not necessarily a guide to future performance.
Any opinions expressed on this page are subject to change without notice and Valu-Trac is not under any obligation to update or keep current the information contained herein. Sources for all tables and graphs herein are Valu-Trac unless otherwise indicated.
The information provided is "as is" without any express or implied warranty of any kind including warranties of merchantability, non-infringement of intellectual property, or fitness for any purpose. Because some jurisdictions prohibit the exclusion or limitation of liability for consequential or incidental damages, the above limitation may not apply to you.
Users are therefore warned not to rely exclusively on the comments or conclusions within the page but to carry out their own due diligence before making their own decisions.
Valu-Trac Investment Management Limited and its affiliated companies, employees of Valu-Trac Investment Management Limited and its affiliated companies, or individuals connected to them, may have or have had interests of long or short positions in, and may at any time make purchases and/or sales as principal or agent in, the relevant securities or related financial instruments discussed on this page.
© 2019 Valu-Trac Investment Management Limited. Authorised and regulated by the Financial Conduct Authority (UK), registration number 145168. This status can be checked with the FCA on 0800 111 6768 or on the FCA website (UK). All rights reserved. No part of this page may be reproduced or distributed in any manner without the written permission of Valu-Trac Investment Management Limited. Valu-Trac is a registered trademark.