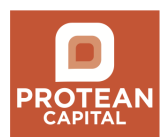 Protean Capital is a specialist investment manager with considerable expertise of quantitative investment strategies, risk management, structured products and derivative trading. With backgrounds including global head of derivative trading, head of European structuring, head of structured products and fixed income trading the individuals at Protean have been responsible for a ground-breaking closed-ended structured product fund and the UK's first structured product UCITS fund which was recognised with a PAM award for innovation.
The VT Protean Capital Elder Fund benefits from this deep expertise and achieves its investment objective via an actively risk managed diversified portfolio of structured securities and derivative positions.
The objective of the Fund is to preserve capital and generate income and capital growth over the long term. The Fund will aim to meet its investment objective by investing primarily in a portfolio of UK companies listed on recognised stock exchanges. The Fund may also invest in overseas equities, transferable securities, money market instruments, deposits and cash and near cash. There will be no particular emphasis on any industrial or economic sector.
For more information on Protean Capital, please visit
www.protean-capital.com or contact us at info@protean-capital.com
Share Classes:

The latest net asset value per share is as follows:
A Net Accumulation
111.3662p
A Net Income
97.6004p
I Net Accumulation
112.9650p
I Net Income
108.5089p
Net Asset Value as at 12:00 on 18th January 2021.
The fund's valuation point is 12.00 every business day.
| | |
| --- | --- |
| Key Investor Information | Class A |
| (please click on the relevant share class on the right) | Class I |
Past performance is not necessarily an indication of future results